Hey!
What I'm Reading
So last time I went super mega fangirl about My Lady Jane and alluded to a book I was reading, but decided to save it for my next blog. Well, I am ready to tell you about that book, but first we need to talk about My Lady Jane again.
So last Tuesday, the authors were at Books of Wonder for an event. But you might remember I was seeing Florence and the Machine that night. I was really, really sad I had to miss it because I read an interview Cynthia, Jodi, and Brodi had done in the Epic Reads book they gave away at BookCon. It was so funny, and I instantly knew I wanted to see these three in person. Alas, that could not be. But, I did order myself a signed personalized copy from the store (cause Books of Wonder is awesome like that–and they ship worldwide).
I finally got around to taking some pictures of my beautiful gorgeous book!
This slideshow requires JavaScript.
And now!! To the other wonderful book I read recently and absolutely adored.
Side note: this was the first book I read and tweeted about that attracted people I didn't even know to tell me how good it was. The tweet actually got way more attention than I thought it would. Right away I had a feeling I was in for something good.
I opened the DARK DAYS CLUB by @AlisonGoodman and it's beautiful! #amreading pic.twitter.com/fz3sEstv4p

— Michella (@Mic_Domenici) June 12, 2016
Ummmmm…. so yeah, let's talk about how AMAZING The Dark Days Club was???? I was not prepared to be blown away by this! Right away, the writing jumped out at me, and I loved how many rich female relationships Lady Helen had.
I'm just gonna embed the Goodreads review, even though now I know they look boring :(, but I honestly don't think I can write coherently about this book again cause I loved it and need book two right now!
This cover is unfairly beautiful. Look at the lace! Look at the fans and skeletons and all the intricacies of it!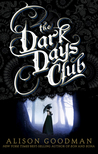 The Dark Days Club by Alison Goodman
My rating: 5 of 5 stars
Ummmmmm this was perfect bye.
Reasons This Book Is The Best
-So many lady friendships/relationships! The story opens with Helen's concern for her missing maid and the ruin of one of her close friends. Women are integral to the plot and Helen takes her relationships seriously. Her bond with her (parabati) maid Darby is so sweet, as is her desire to be there for her friend who is now disgraced. I loved the role Millicent plays throughout, as well, as the friend and lifeline to the normal world Helen is gradually leaving behind as she learns more about her abilities. Then there's her complicated relationship with her aunt, and the loss of her mother, who actually plays quite a role in the book. There are also the other women in society, who are not Catty Evil Mean Girls… but just girls, acquaintances, etc. MUCH LOVE. *heart eyes*
-THE NEW SHIP OF MY HEART. ugh. No one prepared me for its perfection. It was subtle, but swoony af and reminded me of Lizzie/Darcy and Jane/Rochester. Like a perfect blend of both those ships. A particularly *fans self* scene with Lord Byron reciting stirring poetry, demon exorcism hand holding, the fight/first aid scene, the next to last chapter showdown OMG.
-Regency England. Goddamn, this book is amazing. Alison Goodman knows everything about the Regency Era, I am convinced. There are lots of historical books that go for the glitz and glamor of an era, but never follow society's rigid rules. This book never takes an easy way out. Helen has to sneak out to attend a public hanging? Well she can't just climb out her bedroom window, but instead this book is excellently plotted and constructed to really live in its time period. Regency jargon! Apparently even the weather in the book is accurate to its date (see: author's note). I'm just in awe of how perfectly in synch this book is with Regency conventions, rules, and daily happenings. It's a marvel of a book that feels like Austen reinvented with some actual magic.
-Physically, this book is so beautiful. The art at the top of every single page. The typography of the letters. The dates.
-A refreshing take on The Chosen One and an actual choice for Helen. So, we all know the YA fantasy where the MC has this special power than can quite literally save the world (not that I don't also enjoy those books from time to time). Helen is also a special lady, but she actually has this amazing choice if she wants it or not, and I love it. Like, there are real stakes/consequences for whichever choice she makes and it was riveting.
-On the same line, the world-building. Along with giving Helen a choice and consequences, the mythology in the story is fascinating. It's also the reason the fact Helen has a choice works so well. I never felt flooded with too much info. It's well paced and artfully spread out, and feels familiar yet new.
-WHAT ARE YOU WAITING FOR READ IT NOW
I want to marry this book. MARRY IT. I also want to marry Carlston. *cough*
Just… just… please everyone read it. And then come at me so we can swoon and fangirl and WAIT tortuously for The Dark Days Pact.
And since this section is technically called "What I'm Reading" and not "What I Just Read and Loved and I'm Pretty Sure I'm Now Dead," I'll say I'm listening to the audiobook of Jenn Barnes' The Fixer, and it's so good!! YA Scandal, basically. I'm all for it.
What I'm Doing 
FOOOOOOODD! Okay, well wait. I have some other things to blog about before we get to the food.
So firstly I was at Books of Wonder last week to see three amazing people: Steph Perkins, Nina LaCour, and David Levithan. Also on the panel were Lisa Williamson (The Art of Being Normal), who has the best English accent and read from her book SO well; Jane Mason (Without Annette); and Billy Merrell (Full Spectrum). They were also amazing, I just didn't know it until I found out about them at the event 😉
Unbeknownst to me, this event was part of the Openly YA series Books of Wonder was doing in celebration of Pride Month. I felt so honored to be in that room with so many queer teens and allies, especially just a few days after the horror in Orlando. All the authors on the panel recognized the importance of this event, in supporting lgbtqia teens and literature, and standing up to hate with love.
In David's words, the readings that night would begin with tragedy, but end with Pride. He was right. We started with a scene from one of his older books were a girl is lighting candles at a 9/11 memorial, and from there moved to Stephanie Perkins reading an excerpt from Tim Federle's short story in her anthology Summer Days and Summer Nights where a gay couple just broke up.
Next was Lisa who read a scene where her main character was being bullied. Then there was Billy who read an excerpt from one the new essays in Full Spectrum about sex and gender.
Jane read the opening of her book where the girls are arriving at boarding school. And then, Nina and David stood up and owned the floor.
.@nina_lacour & @loversdiction absolutely killed their reading tonight at @BooksofWonder!! pic.twitter.com/DvWmxLQa5u

— Michella (@Mic_Domenici) June 16, 2016
They read the opening two chapters from their new book You Know Me Well, and then read a bit from the end (and the crowd was freaking out about spoilers). It was the most beautiful thing I'd ever seen. The two of them were acting it out, being silly and adorable, and reveling in their unapologetically gay book about teens being HAPPY and THEMSELVES and ALIVE. I haven't read my copy yet, but I am so so SO excited.
That was Wednesday night. And then on Friday….
IT'S FINDING DORY DAY. pic.twitter.com/vQ1L6Cwimc

— Michella (@Mic_Domenici) June 17, 2016
I did my waiting! 12 13 years of it! In Azkaban. 
Jess and I went to see Finding Dory! We went to an 11am showing haha because we could just not wait any longer. Plus, we wanted to avoid screaming loud children. It worked out very well.
The short film, Piper, before the movie is too cute. Like, I reached my capacity of cuteness before the actual movie even started.
Finding Dory was really good! It was just cute. There was no horrible traumatic scene we've come to expect from Pixar movies. It was lighthearted and adorable and I loved how Dory's neurodiversity was celebrated. They did such a good job with it, which is why it was a letdown when they failed to do the same two side characters (find an article about it here). That was the only blah part of the movie for me.
Then we went to eat.
My French toast after I'd taken a bite out of it. I love me some French toast ❤
I promised you food, didn't I? Well, here's more!
Yesterday, Mom and I had a day out and enjoyed lunch at this Italian restaurant we'd never been to before in Park Slope.
The first being my appetizer, mozzarella and tomato! ❤ You can never go wrong with that. Then I had penne fiorentina, which is spinach pesto and fresh ricotta! My mom had fillet de sol. For dessert we split a pear tart with hazelnut ice cream. Yuuummm!!
Oh, I almost forgot. There was also an excess of vodka pizza for Father's Day, and I only managed to grab this picture before it was all gone.
Pizza is the best. Pizza is life. Piiiiiizza.
What I'm Thinking About
-I just found these 2 articles I wrote on a short lived blog I was running last year, and I'm still really proud of them a year later! 🙂
-Vote vote vote in November to remove all the awful Senate Republicans who voted against stricter gun laws. They're not even strict gun laws; they're common sense gun laws. Obviously you should have to pass a background check to buy a gun. Obviously if you're a suspected terrorist you should not be able to buy a goddamn assault weapon.
-Sometimes you cut toxic people out of your life for a reason. But sometimes they reappear, seemingly to have changed, but then pull the same crap. It just sucks, when you're hopeful something is different now and you can get back to a good place. And then you have your heart stomped on again.
-My cat is a celery fiend.
What I'm Writing
Nothing! Right now, anyway. Because I finished my draft!!!!!!!!
Feb 18 to June 18, draft 1 of #fantasyWIP is officially DONE! pic.twitter.com/VHZthmG5IG

— Michella (@Mic_Domenici) June 18, 2016
!!!!!!!!
What I'm Watching
The Bachelorette. Gotta say though, last night's episode was pretty boring with Chad gone and all the guys turning into jerks/blobs/sexists. I need a good show! Recommendations?
That NBA finals game was intense.
US men's soccer team vs Argentina tonight! I'm excited! Am bummed UEFA and Copa America are happening at the same time, though. I wish they were one after the other so we could have more soccer over a longer period of time. Alas.
That's all from me for now. Be kind to each other,
Mic ❤